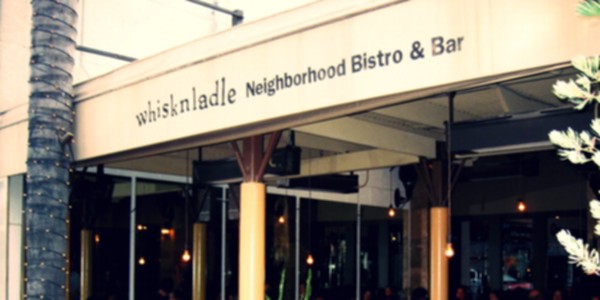 The atmosphere at Whisknladle on Wall Street in La Jolla is probably the best example of laid back, classy-casual dining, maybe in the whole city.  The covered patio is just gorgeous and airy yet comfortable and cozy- read: "romantic".  They have these great storm curtains, I've been there for lunch during a storm and it was one of the best afternoons I think I've ever spent.
Ryan Johnston and Arturo Kassel started small with a grand idea that works and kept on growing to now include PrepKitchen that has 3 successful locations.  Their following is well deserved.  It's no wonder that when people visit San Diego on vacation even with all the restaurants in town, sometimes people dine at Whisknladle every day..
We started with their winter soup with walnut oil- it was clean and full of fresh local farm vegetables.  They serve lemon cucumber water for the table which I think should just become a staple for all restaurants now.  In fact, it's a peev of mine where you go to a nice restaurant with a popular chef and a great, imaginative menu and then the waiter describes all the specials in hoity toity detail and talks about the cheese sommelier and blah blah blah and then they bring you a glass of tepid tap water.  Really?  Most of the time it's fine but you know when you're getting tap water, you can really taste the extract of crud.
But I digress: Whisknladle knows what they're doing! The diver scallops with bacon and vermouth cream were sweet, briny and mischievous; the red wine braised short ribs had a sauce so great we had to sop it all up with extra bread. And the sweetbreads, which I get whenever I can, were probably the best I've ever tried; creamy, meaty, buttery, and served with maple glaze over lentils and these great little baby Brussels sprouts in a seriously cohesive campfire baked beans goes to town kind of way.
You know how sometimes you have a great dinner someplace and then the desserts are predictable and just kinda going through the motions? Like everyone has a tiramisu, a choc cake of some sort, sometimes a traditional crème brulee,  The desserts at Whisknladle are some of the most creative I've seen; with a key lime pavlova that's more key lime volcano with huckleberry magma and persimmon lava bombs, and a giandiua tartufo (Italian for 'truffle' or is normally a 'bomba' style dessert- this one is anything but typical- it's a mousse and a gelato together under a velvety fudge shell with candied toffee nuts and white chocolate sauce- I haven't been that full since Marcus bet me I couldn't eat 3 pounds of foie gras that time…
Our waiter Jarod was attentive, sweet and knowledgeable and all the staff is great- happy and smiley- exactly what makes southern California not just the best place to live, but also the best place to dine.  Book a table soon before they change the menu because they use local farm fresh seasonal stuff and it's fabulous!  Tell them Claire from Food Fight said "Hi"!
Whisknladle
1044 Wall Street
La Jolla, CA  92037
(858) 551-7575
Hours: 11:30am – 10pm