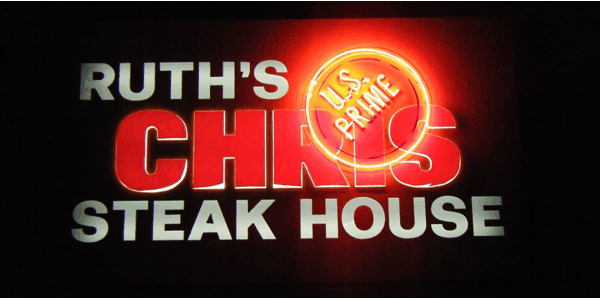 Walking into Ruth's Chris is about what you'd expect of a nice steakhouse, it's dimly lit and full of dark wood furniture and deep dark romantic hallways.  You get lead down a corridor and you can faintly here the sizzle of the steaks as they arrive to people's tables.  "That's what I want, you say to yourself".
You'll sit down at a cozy table with a crisp white tablecloth and order a lovely cocktail- a martini possibly.  Then the unthinkable- a rolling meat rack of cut steaks, raw and red and moist shows up.  This is your menu, and it's moo-ing.  This is what I am here for:  the choose your own, wet aged prime steak with the best marbling of the bunch.  Of course I usually talk my way into the kitchen so I can have my pick of their inventory just to make sure I get the best one but that's maybe just me.
You order it medium rare, as they recommend, but this is me so I order it very rare.  I want seared with a little salty char on the outside and untouched aged goodness on the inside, my steak still has a personality when I get it.  it comes on a hot plate sizzling with a bit of real Wisconsin butter, flown in just to be melted onto these steaks.
Vegetables?  I figure if there's someone within 10 feet of me wearing green I'm covered.  I'll look in the direction of someone eating a salad.  I can get salad anywhere- but not on this day.  This day I am eating steak.
Its perfect flavor must not be assaulted by the addition of lettuce or arugula. Let other people go crazy over the lettuce wedge.  There are two ways to order my favorite, which is the filet mignon cut:  bone in or boneless.  The idea behind the bone-in is that, in the two minutes that this thing is cooking in their custom made 1600 degree Montegue ovens, the bone marrow is somehow going to soak out and flavor the meat.  well, just to be sure I ordered both, because I want to be thorough.  Personally it's hard to choose, because, while I didn't taste any extra richness of flavor imparted by the bone, I do like knowing on my meat like a caveman so either is a righteous choice.
We had the spicy lobster appetizer which was like really ritzy fried calamari, and the beef carpacio, because what goes better with meat than more meat, is a delicate fairy wing of meat that goes so nicely on the crusty toasty with garlic and greens.  Actually Marcus ate the greens and he said they were good.
The sides to get are the sweet potato casserole with the candied pecan crust, which is basically a dessert, and the sautéed mushrooms, technically not green so I maintain my dignity.
We have our own table there in the far south corner at Ruth's Chris and standing monthly reservations so look for us on your next visit. Meanwhile we have a Food Fight Challenge to fight and a plague to award and the contender will be …Donovans!  We know your out there listening, Donovans' owners, and we're comin' after you.  You think you can take on the sheer meat awesomeness at Ruth's Chris?  We'll see.  You've got your work cut out for you Donavan's and here's why:  you're competition is steak altruism itself.  You know that butterfly cut filet mignon?  Its wrong! Dead wrong! With these thin steaks and these powerful ovens that sear so fast- you can only get the steak done medium, which is all kinds of wrong.  If the inside is rare, the outside cant be charred at all- it just turns gray.  Morton's was disqualified from the competition for this heinous meat crime.  Any place that is OK with serving steak like that is NOT OK with me.  That's a $40 over done limp and soggy steak- that's un-American!   That's a crime punishable by AI sauce- which is the biggest affront to a good steak, am I right?
Ruth's Chris Steakhouse
1355 North Harbor Dr.
San Diego, CA 92101
619-233-1422
Monday-Thursday  5pm-10pm
Friday  5pm-10:30pm
Saturday  4:30pm-10:30pm
Sunday  4:30pm-10pm