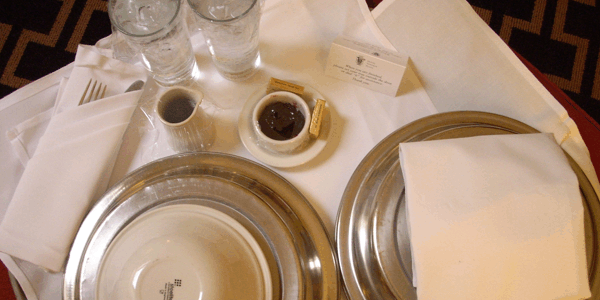 What happens to hotels where the service of bringing someone a sandwich and soda to their room becomes paramount to engineering a bridge or erecting a monument?
How does a meal you would otherwise pay $25 for anywhere else somehow cost $97 when a glorified baggage handler makes the trek on an elevator with a rolling cart from the kitchen to your, smaller than it appeared on the website, room? Have you traveled?  Maybe wanted to relax and get something brought to you rather than having to put pants on and go outside? Well I'll tell you… better be prepared to shell out a small fortune on one of the least impressive meals you will have.
From the $17 fruit cocktail ($20 if you want pineapple) to the $15 cup of French Onion Soup, to the $3 surcharge for a pickle spear for your sliders, you can bet every item on the menu will make you wish you took that doggie bag from the restaurant last night.  How much is it all together? Well don't answer yet, because once you finally rationalize the listed costs, your server will soon bring the bill. Yes, he arrives with a lovely cart with white linen tablecloth and napkins and maybe even a fresh flower.  "Well at least it's a nice presentation" you say to your spouse.  Just need to sign the receipt and add a few dollars for the nice man who wheeled this in, you think to yourself.
What!? A service fee? Resort surcharge? A predetermined gratuity? A second open line for additional tip?
Well too late now.  It's embarrassing to complain or even keep that look of sticker shock on your face.  Do you add the additional tip? Is it expected? At this point, does it even matter? You've just spent the equivalent of dining at a four star restaurant. What's another few dollars now?  Anyway, that's a lovely flower and we can eat with our pants off.  That's what a vacation is all about isn't it? I'm sure the food will be first class.
Well that's generally about when things start to go downhill.  That $24 spaghetti with meat sauce, is both overcooked and seems to lack sauce as a vessel for the meat.  You're assorted sliders are identical and seem to be losing heat quicker than Kevin Costner lost his British accent in Robin Hood and those French fries are about as crispy as steamed asparagus.  The rolls are as stale as Neil Saavedra's food show and the shrimp in your shrimp cocktail are as limp as his… moving on..
At least you can take the baby ketchup and teeny tiny tabasco bottles with as souvenirs.  And yes, you can eat away from home with no pants on.
Podcast: Play in new window | Download