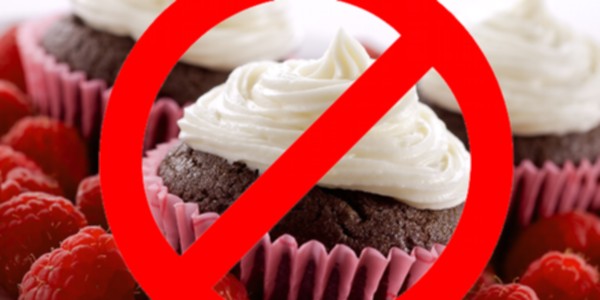 I know you're tired of the cupcake thing – I am.  You think it's played out right?  If you talk to those people who line up around the block standing in line waiting for 4 hours to pay $8 for a cute little pink cake with a softball size mound of bright pink sparkly icing, you start to get a clearer picture of the real issue – what's really going on here…
Aside from the fact that almost every single one of these people is female, they talk about it like it's a way of life, like it's a belief system, like it's a cult!  And if you are a "cultcake" member- you're only allowed to have friends who are cultcakers.  Because people are as divided on this issue as they are on smoking:  Would you like cupcake section or non-cupcake section?  You'll never find a donut shop that sells cupcakes – oh it's unheard of!  If you even say the word "cupcake" in a donut shop… You know, the music stops!
And these things are emasculating for the men, aren't they?  The 3 or 4 men you see in line at a cupcake place have their heads hanging down and they're kind of hiding so no one will see them picking up the cupcakes for their girlfriends.  And those cultcakers really stick together too: they all get together for cultcake parties with a build your own icing bar and sprinkle buffet and pick your own cute little frilly girly estrogen filled candy topper.
Well, enjoy it while it lasts you hopped-up-on-food-dye-sugar-rushed-muffin-topped cultcakers!  Cupcakes are having a moment that will soon be over.  Soon big heavy buttery manly brownies are taking over.  As soon as these lines aren't around the corner anymore these places won't be able to pay their rent – and who's gonna move in next?  That's right: wait until perfectly normal manly men are standing in line around the block to get a nice brick-sized maple bacon brownie, with a nice hefty plain un-logoed white mug full of black coffee, yeah!  Women won't be hanging out at bars anymore; they'll head straight to the line at the brownie shop.  Because brownies are great and the men who eat them are straight.
Podcast: Play in new window | Download